Profile

Luna Diviner; サイクス
If I had a heart, this would be where I die of laughter.
Free Account
Created on 2017-02-28 23:26:47 (#2810964), last updated 2017-02-28 (29 weeks ago)
1,070 comments received, 0 comments posted
26 Journal Entries, 14 Tags, 0 Memories, 6 Icons

About
| | |
| --- | --- |
| Name: | lunarxeffected |
| Birthdate: | Sep 25 |
| | |
| | |

Mini Bio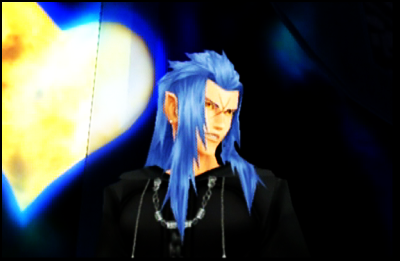 [_____The Luna Diviner, Saïx]
Number VII, Saïx - wielder of the claymore, a berserker who draws his power from the moon itself. Being a Nobody, he has neither a heart nor the emotions that come with it. His goal lies, with the other members of Organization XIII, in regaining his heart, and the hearts of all the other Nobodies.
[_____History and Backgrounds]
Saïx has been revived since his defeat a year ago at the hands of the Keyblade wielders. With the reappearance of Xemnas, Saïx quickly made his chosen side known, going to work with him with the assurance that he would get a heart for his loyalty. Since then, Saïx fell prey to a number of 'viruses' or curses from varying means among the community, and encountered a lot of people from different worlds. He's been through body swaps, violent fights with traitorous members of Organization XIII, experiencing life as a woman, and beng bound by soul with Vexen for the duration of a week. Oh, and merciless tormenting on the internet. Nevertheless, he considers all of this irrelevant in the face of the latest turn they've taken in their goal. With the majority of their Organization having shown some sign of life in the year it's been since their complete defeat, and a Keyblade wielder appearing to be on their side (through through little choice of his own), suspicious as Saïx is, he's not about to pass up this chance.
[_____Other Information]
RETIRED. This is an
abandoned journal
. Saïx was played by
blindfolds
for the rpgs
dramadramaduck
and
zonedoutdead
.

Connect
addled impasse,
battle
,
berserker
,
berserkers
,
castle oblivion
,
claymores
,
completion
,
darkness
,
divination
,
heartless
,
hearts
,
kingdom hearts
,
knowledge
, lunar power,
moonlight
,
moonpies
,
nobodies
, order 13,
organization xiii
,
power
,
roleplaying games
,
saïx
,
the heart
,
the moon
,
the organization
, xiii order

People
[View Entries]

Communities
[View entries]

Feeds
[View Entries]

Subscriptions (0)

Linking
To link to this user, copy this code:
On Dreamwidth:
Elsewhere: